COLLABORATOR BIO'S BELOW
Margaret Abbott, Aurora Beagle, Tim Breon, Len Cagle, Jeremy dePrisco, Shawnee Floyd, Janet Heffner, Lucy Henry, Marlow Jacques, Susan Kieren, Bruce Klepper, Chris Morgan, Anna Rader, Arianna Rader, Alfonso Llorente Sardi, Sophia Sprunger, Dudly Ulysee, Alice Weiler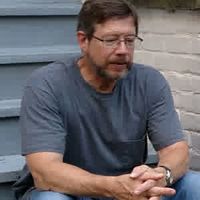 DAVE HEFFNER
SONGWRITER, MUSICIAN, PRODUCER
Consulting available through Wyzant.com: https://www.wyzant.com/Tutors/DaveMusicProducer
Completing his seventh album, "You Can Dream" became a more challenging undertaking than expected. Dave and his wife, Janet, moved over a year ago from their long-time home in Pennsylvania to Colorado to be closer to their daughter's family. The move separated ties with many musicians who collaborated with Dave on his past albums, and the pandemic interrupted building connections with local Colorado musicians. As a result, his current album represents more of his personal music influence than past works, plus more collaborations involving family and a few internet contacts.
     Dave's highly original music, today, can be characterized as having significant use of the piano, traditional use of song structure and lyrics with strong influences of jazz and pop styles. Enveloping these factors is a broad use of modern electronic music techniques and sound design. These contemporary tools are further enhanced by Dave doing his own engineering. His latest album, "You Can Dream," has some fun diversions but has a consistent theme of love and fulfilling dreams.
     Dave began classical piano study at the age of five and trombone at age ten, playing in school, college, and community bands. His interest turned towards jazz and blues in college while also studying music theory and playing in a jazz and rock group. His piano playing continued as accompanist for family vocal performances, teacher, and frequent composer.
     When MIDI was introduced in 1983, allowing the connection of computers and music equipment, Dave was a partner in a chain of computer stores. At that time, he assembled his first home electronic music studio to support consulting, training, and producing commercials, videos, and developing and teaching a university course. He also led workshops at many public schools and colleges, as well as, teaching electronic music at the PA Governor's School.
     Since 2015, after retiring as Chief Information Officer at Lycoming College for twenty years and as an electronic music consultant, Dave is now focusing on composing and producing music in his Pro Tools studio. His music is available through his website: daveheffner.com and through most streaming services. He is an ASCAP member.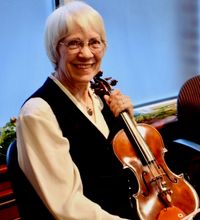 Margaret Abbott - Violin - Margaret started violin in third grade and played in school orchestras through her years at the University of Michigan.  She enjoys playing in a variety of venues.  These include local orchestras, accompanying choral groups, high school musicals, community events, conferences, weddings and funeral, dinners and now collaborating with Dave in his cool compositions. In her spare time she sings with the Susquehanna Valley Chorale. She currently plays viola in the Portsmouth, Maine orchestra.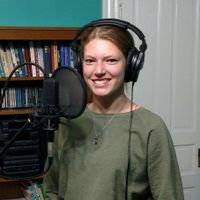 Aurora Beagle - vocals - University student in music therapy. She has been in many music productions, including lead singer for the Uptown Music Collective productions.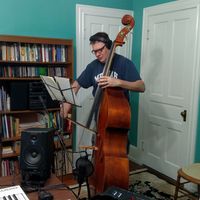 Tim Breon - Electric and Acoustic Guitar, Double Bass - began playing the guitar at the age of 8. At 13, he began study of the bass with James Bertrand. During high school, Tim played with the state orchestra and atteneded The Governor's School for the Arts. During his mid 20s, Tim traveled the East Coast with The David Rose Band, a regionally well-known group. They performed often in major cities such as New York City, Baltimore and Philadelphia. He also studied guitar in New York City with Ben Sher and later with Dave Brumbaugh, founder of Williamsport's Uptown Music Collective. After leaving the band, he joined the Williamsport Symphony Orchestra. Tim is now the principal bassist and stage manager for the orchestra. During the last fifteen years, Tim has backed great performers, including Clay Aiken, Olivia Newton-John, Davy Jones and jazz great David Liebman. He continues to perform with bands including The Johnny Jolin Band, Doug McMinn Quartet and The Kristin Fisher Band. Tim is also the guitar/bass instructor at Lycoming College and director of the electronic music lab.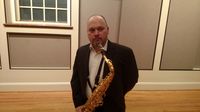 Len Cagle - Alto, Tenor Saxophone, Vocals - Len teaches German at Lycoming College in Williamsport, Pennsylvania. He studied saxophone and jazz improvisation with Dick Adams. Originally from Texas, Len grew up in Arkansas and has lived in the UK, Japan, Germany, and Rhode Island. Len plays in the college Jazz Band and with various jazz groups in the Williamsport area. He has played in many of Dave's productions.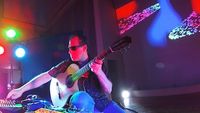 Jeremy dePrisco - acoustic guitar - Jeremy is a Philadelphia, PA producer and songwriter who has released several collections of original music in the folk-rock genre, drawing also from blues and progressive rock. Jeremy has created sound design for a number of university and local theatre productions, performed with a Hungarian folk group and with a Bengali tabla player. Jeremy's 2010 CD "Chaos Rise Up" is based on themes of technology and media influence.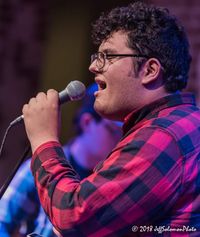 Shawnee Floyd - vocals - Frequent singer with several rock groups at venues in central PA.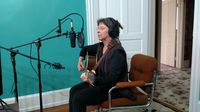 Janet Heffner - Vocals, Lyrics - At the age of 15, Janet received a voice scholarship to Pennsylvania's first Fine Arts Program. She later studied voice and performance with opera singer Josephine Antoine, at Chautauqua Institution for the Arts, Chautauqua, NY. Janet performs original compositions and songs by other composers in assembly programs, high schools, classrooms, churches, and community organizations.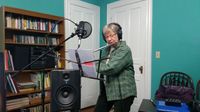 Lucy Henry - flute - Retired Williamsport music teacher, she is active in the music community, having been president of the Williamsport Music Club.